Fire Pit Installation
Invite your friends, family, and neighbors over!
Everyone can crowd around your brand new fire pit and engage in conversation as they enjoy its warmth and beauty.
There is really no limit to how simple or complex you would like your fire pit to be when you hire Callaway Outdoor to design and build it for you.
Our fire pits, and other fire features such as chimneys and outdoor ovens, are each 100% custom designs created specifically to meet your desires and integrate into your existing landscape features seamlessly.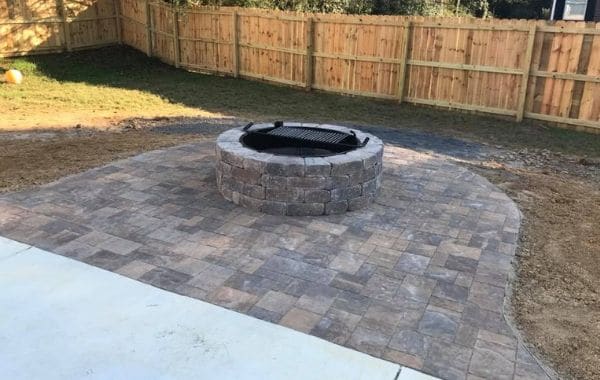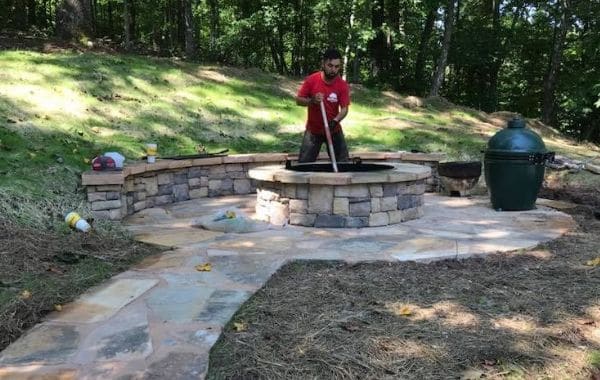 Pictured above is a Callaway Outdoor employee putting the finishing touches on this fire pit and the rest of the crew gets ready to begin the landscaping around the natural flagstone patio and natural rock seating wall also installed by us.
Fireplaces and Chimneys
Custom outdoor, and indoor, fireplaces and chimneys have been growing in popularity for some time.  Callaway Outdoor will design, create, and construct your very own outdoor chimney and outdoor fireplace using a variety of materials dependent on your existing hardscape and landscape or a complete new hardscape, stonescape, and/or landscape incorporating a new outdoor chimney and outdoor fireplace into its theme.
We design and construct interior chimneys and fireplaces as well. With the large supply of different types of stone – natural stone or synthetic stone along with brick, stucco, and adobe, as well as other natural products.  We will create a custom design and install it for you. A wonderful and enjoyable addition to your outdoor living, allow Callaway Outdoor to provide you with an all inclusive quotation for the best in custom outdoor chimneys and fireplaces.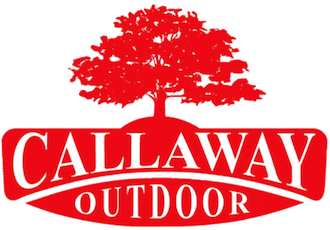 Specializing in high-end residential and commercial design/build projects.
While still offering all of the common lawn care services such as lawn mowing and lawn treatment programs and landscaping services such as mulching and pruning.
We do big jobs.
We do small jobs.
We do all jobs right the first time!
And we would love to make you our next satisfied customer.
Request Your Fire Feature Quote: