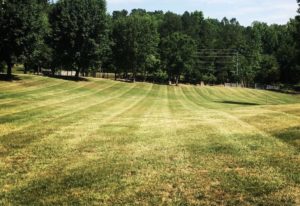 LAWN CARE DALTON SERVICE
You can count on us!
Callaway Outdoor provides the most prestigious lawn care maintenance for Dalton, Ga  and surrounding areas, including Chattanooga, Tn. Whether you are interested in regular  maintenance, seasonal color, fertilizing, mulch or any other lawn service, our experienced staff can help with any needs you have. From designing and installing your dream outdoor space to handling basic lawn maintenance, we have you covered.
OUR MAINTENANCE SERVICES INCLUDE
Hand pruning of ornamental plant material (some shearing may be performed), Groundcover control, Weed control, Hand weeding, Tree maintenance e.g. raising canopy and maintaining proper form, Fertilization of plant material, Edging, Leaf removal, Cleanup of landscaped areas each visit, Aeration and overseeding of cool season turf in fall (fescue), Scalping of warm season turf in spring (Bermuda), Irrigation system start up, shut down, and monitoring, Fertilization and weed control of turf area, Mowing of all turf areas.
706-280-9374