Artificial Turf
Residential & Commercial
The Pet-Safe, Child-Safe, Low-Maintenance Turf Solution
The newest service offered by Callaway Outdoor is artificial turf installation.  Due to recent high demand and a great response at our recent landscape expo exhibit we are proud to now also offer artificial turf solutions to North Georgia and Southeast Tennessee.
You can buy your turf directly from us to ensure its quality and enjoy the warranty that comes with.  Our skilled foremen professionally install the turf so it is ready for all the wear and tear you want to throw at it and made to withstand anything mother nature sends our way.
Artificial Turf Installation
You are about to have a lot more free time or a drastic reduction to your monthly lawn maintenance bill!
We hope you are ready to take advantage.
Fire up the grill because once you have artificial turf installed to replace your current natural lawn, you will experience a lot more free time during your nights and weekends.
Backyard Entertainment
Artificial turf has many uses and purposes.  Let your imagination run wild.
If you are just wanting a pet and child safe low-maintenance turf solution, it certainly has those covered.
But, if you are into golf or entertaining your guests, consider having us install a putting green.
Backyard Putting Greens
Your dream of having a putting green in your own backyard can now be a reality with the help of Callaway Outdoor.
Everything we construct is built to last.
We source the highest-quality artificial turf ready to withstand years of use and exposure to the elements.
Indoor Putting Greens
We told you to let your imagination run wild!
Don't let inclement weather keep you from sharpening your putting skills anymore.  Bring your putting green indoors.
Callaway Outdoor can install your putting green in your basement or any room of your choosing just like we do with our decorative concrete services.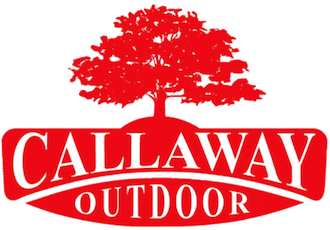 Specializing in high-end residential and commercial design/build projects.
While still offering all of the common lawn care services such as lawn mowing and lawn treatment programs and landscaping services such as mulching and pruning.
We do big jobs.
We do small jobs.
We do all jobs right the first time!
And we would love to make you our next satisfied customer.
Request Your Landscape Lighting Quote:
Chance You Will 💚
Your New Outdoor Lighting.