Flagstone patios are trending and Callaway Outdoor is the local expert when it comes to flagstone patios.
With more than 2 decades of experiencing installing flagstone patios, Drew Callaway is the man you want to speak with if you are considering having a flagstone patio installed.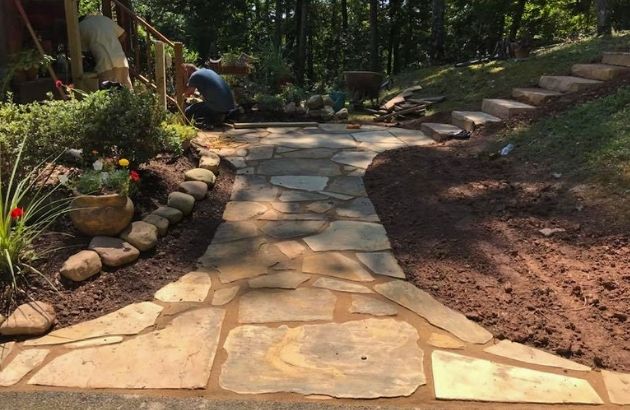 What's the difference between a flagstone patio and a paver patio?
Flagstone patios and paver patios are both paver patios at the end of the day.
Typically, if you are referring to a 'paver patio' the patio was created out of manufactured blocks.  Often these blocks, or pavers, are perfect rectangles because they were manufactured to be perfect rectangles.  Other shapes and sizes are available for manufactured pavers.  Callaway Outdoor does install traditional paver patios, walks, and driveways along with the ability to incorporate retaining walls and much more into the design.
Flagstone patios are patios made from natural rock.  Since flagstone is a natural stone, the shapes and sizes vary from stone to stone.  This literally makes every flagstone patio a 1-off design!  The types of rock typically used to create flagstone patios are sandstone or bluestone, or slate or limestone.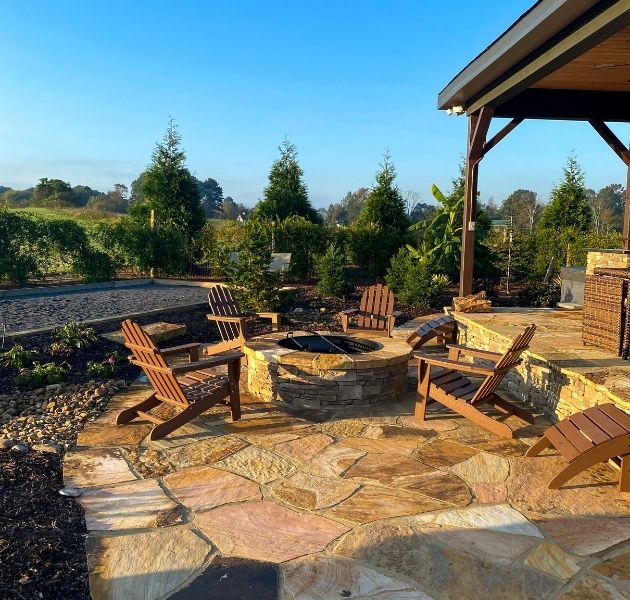 Flagstone Patios Offer A Natural Look
Perfectly straight lines and 90° angles are not everyone's cup of tea!
The image above is of a large landscape design project by Callaway Outdoor that incorporated a flagstone patio.  They installed full-grown trees and shrubs in the landscape beds to compliment the pergola, firepit, and landscape lighting which was also part of this project and also all completely designed and installed in-house by Callaway Outdoor.
Considering the look and feel of the other materials used in this project and the natural horizon seen off in the distance, Callaway Outdoor knocked this one out of the park by suggesting the client have them install a flagstone patio instead of a block paver patio.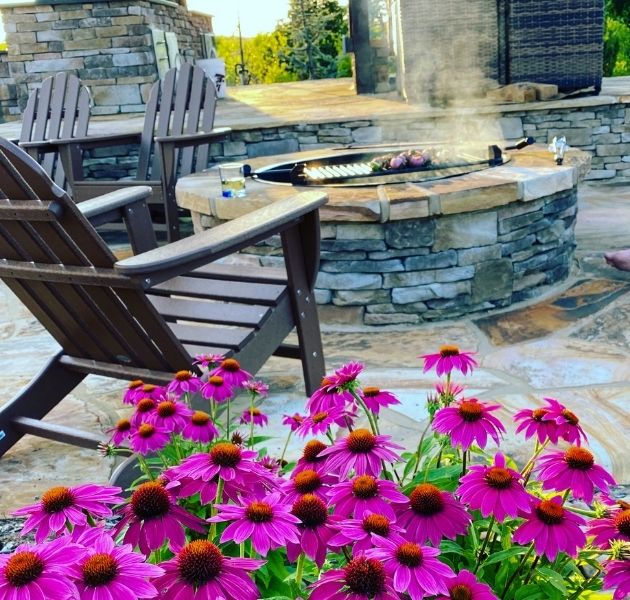 Ready To Enjoy Your New Custom-Built Patio?
Imagine the great times you will have to entertain your friends, family, and other guests on your flagstone patio!
Get your flagstone patio project started today by reaching out to Drew Callaway.  He'll meet with you at your property to get your ideas and wishes along with taking the measurements he needs to provide you with a quote.