The demand for sprinkler systems in Chattanooga and Cleveland, TN is on the rise!
This is no surprise to us as many people are still investing in their properties more than ever in 2021.
If you are looking for a local lawn sprinkler system contractor that knows exactly what turf in our area wants and can install an efficient irrigation system at a fair price, welcome to Callaway Outdoor.
How much is a lawn sprinkler system cost to have installed?
Let's knock this question out right off the bat, we know you are wondering!
The average cost to have an irrigation system installed is $0.40 per square foot.  For a typical neighborhood-sized lot, this equates to $3,500-$8,000, assuming the lot is 1/4 to 1/2 acre with square footage including the home, driveway, etc.
The price range varies so much because there are a lot of options when it comes to irrigation systems.  You can only irrigate parts of your lawn, just your landscape, the entire lawn, or your entire lawn and landscape.
All systems are going to require a control box to handle timing and the separation of zones within the sprinkler system.  Larger systems will require a more expensive control box and additional piping and sprinkler heads.  Everything is relative.
Contact Callaway Outdoor to get a general cost estimate for your lawn and/or landscape today for free.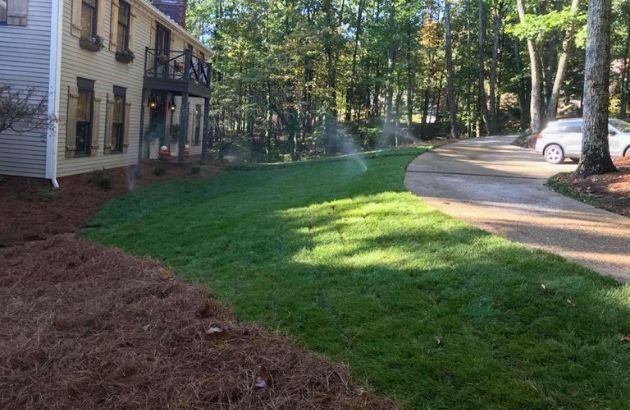 Can I irrigate my lawn and landscape?
Yes, you can!
One of the most common questions we receive is if both the lawn and landscape can be irrigated from the same irrigation system.  The answer is 100% yes!
Irrigation systems utilize zones to only water 1 portion of the lawn or landscape at a time.  Depending on the situation, these zones can vary greatly from one another to apply the right amount of water to the correct areas within that zone of the irrigation system.  Because of this, it is easy to incorporate irrigation for lawns and landscapes into the same sprinkler system, they would be separated by zones.
Is lawn and landscape irrigation the same?
Yes and no.  At the end of the day, an irrigation system is going to supply water to the lawn or landscape.  The manner in which the water is supplied varies depending on if it is a lawn or a landscape in most cases.
Lawns are typically irrigated by sprinkler heads that apply the water to the lawn much as natural rainfall does.
Landscapes are typically irrigated by drip lines which supply the water to the root zone of the landscape plants.
Did you know plants do not need water on their foliage?
It's true.  Plants solely absorb and utilize water through their root system.  A plant can thrive without a drop of water ever touching its leaves!  In fact, this is ideal as moisture on the foliage can introduce fungi or disease.  Obviously, this isn't a huge worry as rain soaks the foliage of plant material often.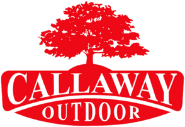 Do you have a question about lawn sprinkler systems?
Callaway Outdoor knows irrigation systems!
We are here to help!  Please do not hesitate to contact us with any questions you have about installing an irrigation system in SE TN or NW GA.
We give second-opinion irrigation system quotes!  Find out just how fair the quote you have already received is today.
Your grass is going to be growing a lot faster after your sprinkler system is installed, you may also be interested in our lawn mowing service.