Shrub installation can really change the look and feel of a landscape at a fraction of the cost of a landscape redesign.
Let's talk about how Callaway Outdoor goes about professionally installing shrubs and the options you have.
Shrubs Are An Intricate Part Of Any Landscape
Landscapes are primarily comprised of flowers, shrubs, and ornamental trees.  Other features can be incorporated into a landscape such as a retaining wall or accent boulder, but as far as plant material goes you can generally group the plants into one of the 3 categories.
Ornamental grasses and ground covers are other plant options available.
At the end of the day, the selection of the shrubs you use in your landscape will set the tone for the landscape.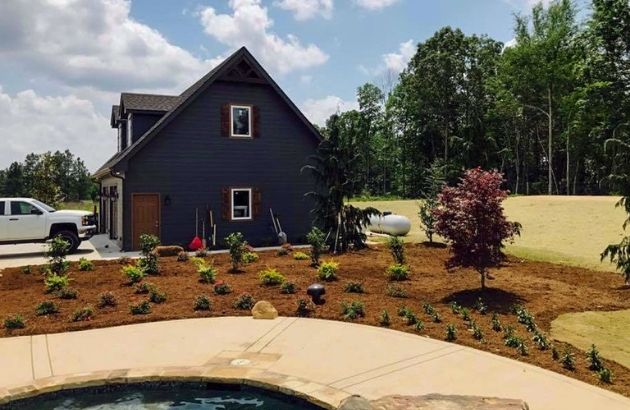 Shrubs Are The Backbone Of A Professional Landscape
All plants add their own charm to a landscape, but shrubs may be the most important.
Flowers are typically smaller and bloom only during certain periods throughout the year.  Ornamental trees vary greatly from conifers to deciduous and can certainly be a staple in your landscape design.
But, shrubs can be used to create hedgerows and there are tons of options from evergreen shrubbery to shrubs that will drop their leaves over the winter months to show off their colorful berries!
We Install Stubs Of All Sizes
Many of our clients don't want to wait years for shrubs to mature.  Callaway Outdoor can install shrubs of any size!
Shrubs of all types are available for purchase and their sizes can vary dramatically.  Obviously, all shrubs do not grow to the same size and shape, but that's not what we mean.
Landscape nurseries usually carry a handful of 'sizes' of each type of shrub.  You can think of it as small, medium, or large, but it's really more like young, adolescent, and adult.
Options When Purchasing Shrubs
Young shrubs don't have extensive root systems yet and are able to fit in smaller pots.  These are inexpensive but you will be waiting years for them to grow to full size.
Adolescent shrubs are often in medium to large size pots and have been growing for a number of years at a farm owned by the nursery before heading to the nursery for sale.  These need larger pots to contain their root system and you get an almost full-size shrub right away.
Adult shrubs can also be purchased from landscape nurseries!  Mature shrubs with many years of life ahead of them are going to have full-grown root systems to go with them!  Often full-size shrubs will are 'balled and burlapped' instead of in a large pot, but they very well could also be in a very large pot!
Installing adult shrubs can make your brand new landscape look like it has been there for years.  The problem for most homeowners is figuring out how to get these full-size shrubs to their homes!  Callaway Outdoor is happy to deliver and install large shrubs for you.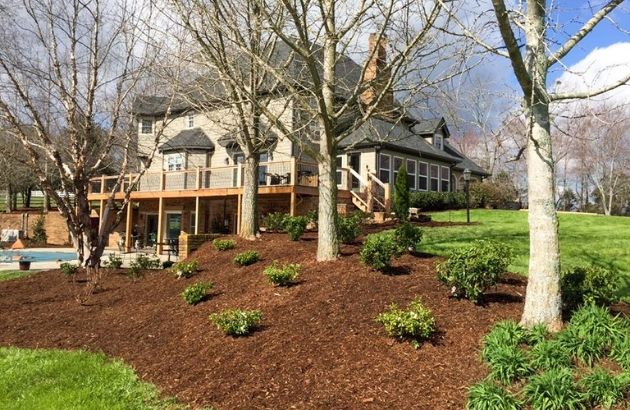 We Install Shrubs & Set Them Up For Success
If you have plans to invest in additional shrubbery for your landscape it may be a wise idea to have a professional landscaper install the plants.
There really is more to planting a shrub than digging a hole and throwing the plant in!
A professional landscaper like us is going to dig out the holes to the proper depth and width.  The plant will be set in the hole at the perfect height to ensure no future problems arise.  Instead of backfilling the hole solely with the dirt that was dug out, we're going to condition the soil with organic additives to be sure the plants have a quality medium to start their life in their new home, your landscape!
Finally, we are going to lighting fertilize the shrubs we install and water them making sure no air is trapped in the soil.  Before we go we are going to go over the care produces with you so you know how to keep your new shrubs looking great for years to come.
Let us prepare a shrub installation quote for your consideration today.